This is my first article in the Arduino world.
I bought some Anarduino devices and I'm looking informations how to program it.
I first discovered that the device is preloaded with a bootloader  and a little test demo sketch.
I also bought the "Anarduino-FTDI USB<>UART Breakout Board".
Mine doesn't deliver the 3v3 output but I have understood that the schematic on the MiniWireless ("MW") page is related the the old design. The new design is with the VIN PIN on the JP1 connector (FTDI Connector). So, the MW can be powered by the 5V coming from the FTDI-USB board with the switch on the 5V position.
Schematic of the MW board :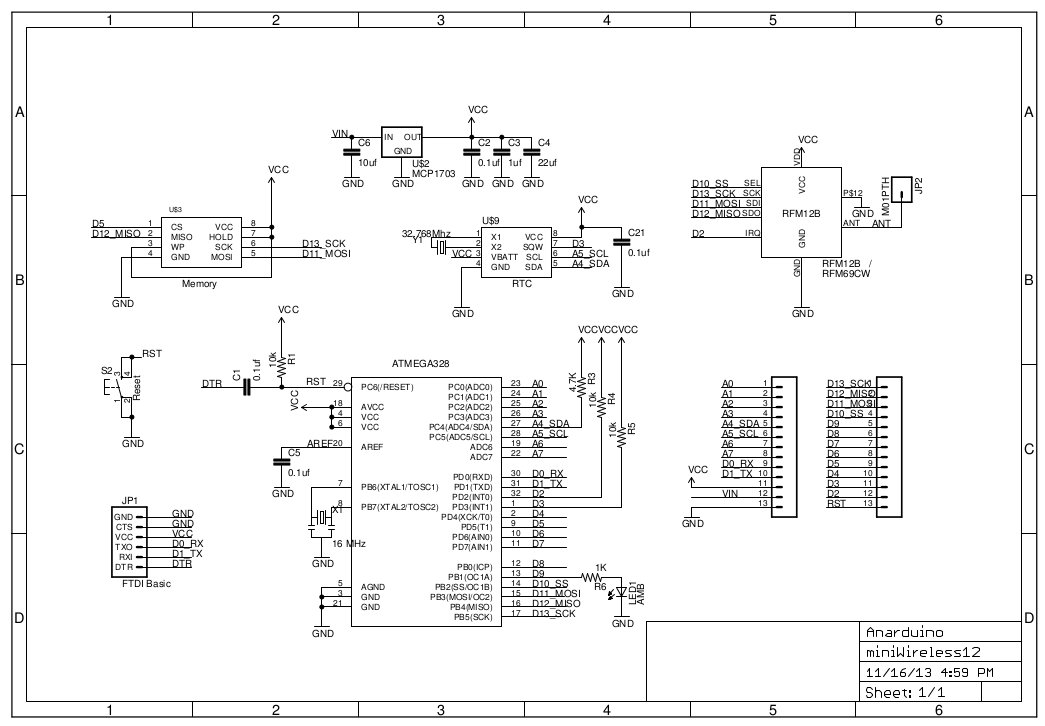 the Schematic of the FTDI-USB :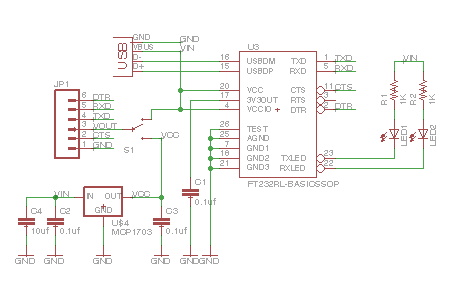 Remark : I also think that the design can be improved by connecting the FT232RL VCCIO PIN to the output voltage switch selector. So, the level of the RX/TX/DTR will follow the voltage selection.
On mine, I do a little modification to adapt the level by connecting the VCCIO to VCC 3v3.
IDE installation
The fist think is to go on the Arduino web site and install the IDE environment : http://arduino.cc/en/Guide/HomePage
I have downloaded and installed the last IDe version :
The second think to do is the select the correct configuration :
Select the correct board : Arduino 2009
Select the COM port of your USB FTDI adapter :
Select the µP :
I have selected the programmer but I don't think it's relevant :
My First compile.
I want to download the RTC/MEM demo sketch as an example.
I place the "ino" file in a folder and I opened it :
I have encountered some difficulties for my first compiling.
The first one is because a Library is missing.
So, I go on the Arduino Web site and downloaded the Library.
I followed the instructions in the given by the guide : It recommends to "Do not unzip the downloaded library, leave it as is. "
So, I imported the Library :
Doing this, a new library will appear in the list :
And a folder "Libraries" is created in your default project location :
But, I still get errors while compiling. as a beginner, it takes a while before I have understood that this ZIP library contains in reality three libraries inside a SUBFOLDER. So, the Import had not been executed properly.
It must be moved from "D:\fichiers\Arduino\libraries\Time\" to "D:\fichiers\Arduino\libraries\".
I also imported MCP7940RTC from the Anarduino web site :
Unfortunately, I get other errors :
These errors come from a OLD library. I have realised that I selected the wrong Time Library:
So, I downloaded the good one and the sketch had been compiled without error.
It's a shame to have that kind of difficulties by following the official "Getting Started Guide". No luck.
Remark : there is another library folder that has been installed during the installation setup and it looks like this after installation :
E:\Program2\Arduino\libraries\